HGC announces its new investment of $32 million in the Surfside project together with Floridays Development.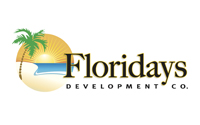 Floridays Development Company was established in 1990 and is headquartered in Sarasota, FL. The company has developed a wide range of projects including luxury condominium towers, resorts & hotels, multi-family apartments, senior care housing, residential and commercial sub-divisions. Floridays Development Company is led by CEO Angus Rogers who holds a BS & MS in engineering from the University of Michigan and has over 30 years of building experience that spans a diverse spectrum of product types with values exceeding $1 billion.
The Surfside project located on a 2.93 acres land sits at the heart of the Sapphire Bay on a peninsula in the center of Lake Ray Hubbard surrounded by 2 miles of shoreline. The location enjoys excellent job exposures. Interstate Highway 30 provides convenient access to Dallas' biggest employment centers located in Dallas Downtown and Uptown. The addition of President George Bush Turnpike offers commuters better access to employment nodes to the northwest in Richardson, Plano, and Allen.
The Surfside project will be developed to a 317 units, 5 stories, multifamily project. Total project capitalization is approximately $80M. Once the project is complete, it will feature a robust amenity package including: Rooftop pool and lounge with panoramic lake view; Large Fitness Center with Yoga/Pilates Studio; Pet washing station; Business Center; Miles of hike and bike trails, parks, kayaking, boating, and the Sapphire Bay Dog Park; The white sand beach and turquoise blue water of the 7-acre Sapphire Bay Lagoon; Breathtaking views of the nightly entertainment provided by the Fountains at Sapphire Bay; Access to the Sapphire Bay Surf Village for concerts and events;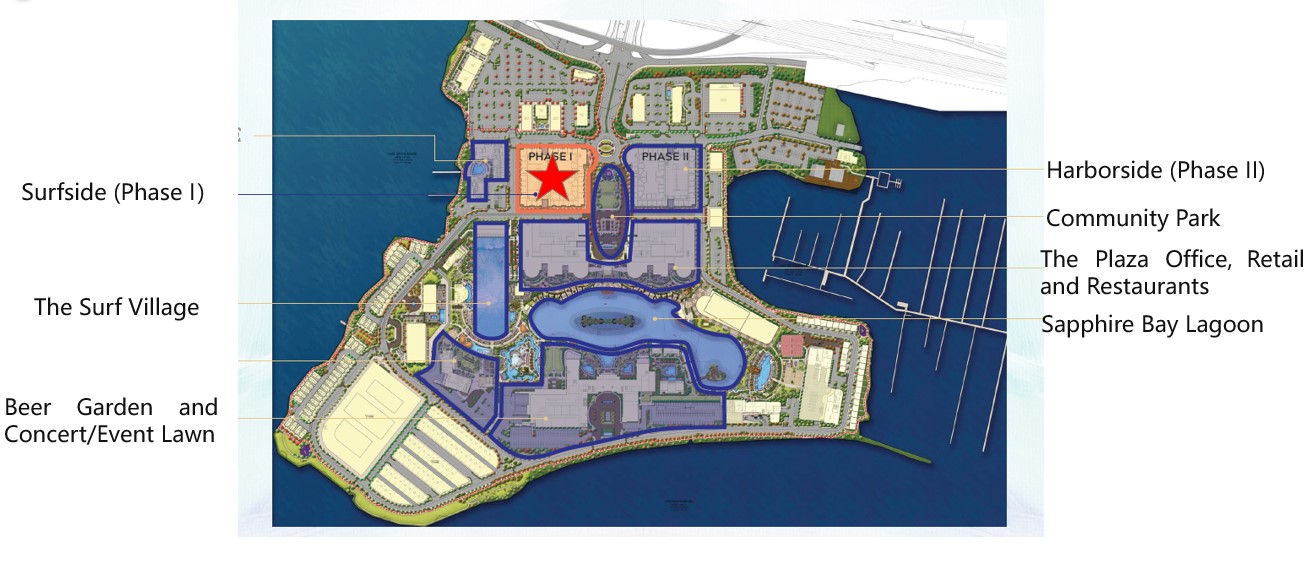 Located just off Interstate 30, the site is in the heart of the Sapphire Bay development, a $1 billion mixed-use, master-planned community that when completed will consist of 1,500+ residential units, 1.7 million square feet of mixed-use restaurant, retail, entertainment, office and hospitality space, 20+ acres of parks and trails, a 1,000-slip marina.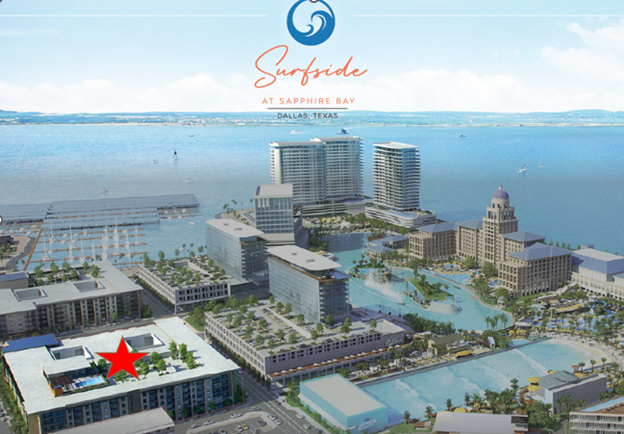 Sapphire Bay will be Dallas' first resort destination. Residents will enjoy picturesque lake views and a range of amenities.
- Sapphire Bay will also feature a man-made lagoon, a one-of-a-kind surf village and water park, parks and trails, and a 1,000-slip marina.
- Multifamily sites on / near the water are uncommon in Dallas.